Notice: for safety reasons all our gallons are shipped in a vacuum bags that are prepared and sealed the same day of shipping.

- Our Local and Hawaiian Honey in gallons.  in a 1 gallon bag/container which is 12 pounds of honey.
- It is 100% raw, unheated and unfiltered honey. It comes directly from the hive and it has never been pasteurized or blended.
- The color of this wonderful honey, texture, and flavor will vary depending on the flowers the bees are foraging on at any given time of the year.
- Our honey is purely produced for your enjoyment.
- If you have a sore throat, put a teaspoon of honey under the tongue and suck it. Will help to relief from pain. !00% organic guarantee.
Warning: Do not feed to infants under one year old    
Please Note:  Raw honey tends to crystallize within 2-6 months, depending on the humidity, temperature, un/direct light.
The Gallon of Pure Honey-12 lb is the yin, to your yang. You've found what you're looking for.

Inventory Last Updated: Oct 24, 2020
Customer Reviews
10/22/2020
Tatyana S.
United States
Honey and bee pollen
It's was the best raw honey we are tried so far . We purchased 5 varieties (mango, Christmas Berry, creamy ,macadamia nuts and eucalyptus) All of them so good!!!! Different taste, smell and consistency but all of them yummy!!! Good customer service( easy to reach and tech support ), quick shipping.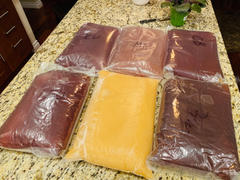 10/22/2020
Darya L.
United States
Good quality and very tasty honey
Always enjoy purchases from Hawaiian Honey AT&S, great deals, high quality, fast delivery.
10/13/2020
Pam J.
United States
Disbelief
The first time I have tried Tropical honey, I was amazed with the very pleasant flavor. I saw a video where a honeycomb pattern will appear at the bottom when water is swished with it. Sure enough, my honeycomb appeared. I will certainly be a returning customer.
09/21/2020
Cristina B.
United States
Tasty honey
It is my 3rd time ordering eucalyptus honey, love it!
08/29/2020
Alena N.
United States
HONEY
Honey was too watery